Role and Evolution of the Extracellular Matrix in the Acquisition of Complex Multicellularity in Eukaryotes: A Macroalgal Perspective
Affiliations:
(1)

Sorbonne Université, CNRS, Integrative Biology of Marine Models (LBI2M), Station Biologique de Roscoff (SBR)
Source:
Genes (Basel) . 2021 Jul 10;12(7):1059.
DOI:

10.3390/genes12071059
Publication date:

2021 Jul
E-Publication date:

July 10, 2021

Availability:

full text
Language: English Countries: Not specified Location: Not specified Correspondence address: gurvan.michel@sb-roscoff.fr
Article abstract
Multicellular eukaryotes are characterized by an expanded extracellular matrix (ECM) with a diversified composition. The ECM is involved in determining tissue texture, screening cells from the outside medium, development, and innate immunity, all of which are essential features in the biology of multicellular eukaryotes. This review addresses the origin and evolution of the ECM, with a focus on multicellular marine algae. We show that in these lineages the expansion of extracellular matrix played a major role in the acquisition of complex multicellularity through its capacity to connect, position, shield, and defend the cells. Multiple innovations were necessary during these evolutionary processes, leading to striking convergences in the structures and functions of the ECMs of algae, animals, and plants.
Article content
1. Introduction
Multicellularity has evolved at least 25 times during the evolutionary history of the eukaryotes [
1
] but only a handful of these multicellular lineages include what could be considered to be complex multicellular organisms. Here, we define complex multicellularity as the possession of a macroscopic body plan consisting of multiple cell types that is constructed by developmental programs involving cell division and differentiation [
2
]. Under this definition, animals, land plants, and fungi are considered to exhibit complex multicellularity but also the three independently evolved lineages of macroalgae: brown, red and green algae (
Figure 1
).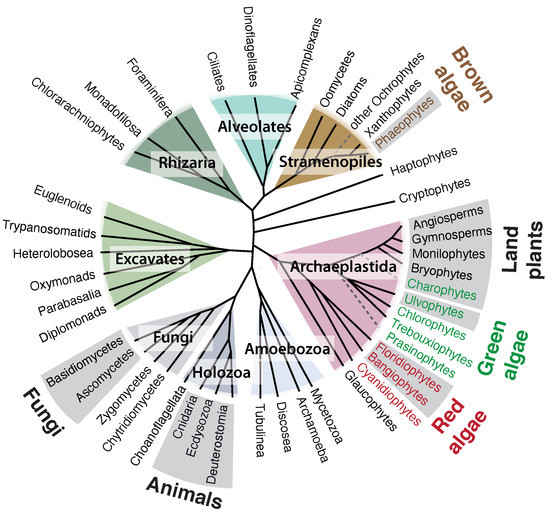 Figure 1.
Schematic tree of the eukaryotes showing the phylogenetic positions of the brown, green, and red macroalgal lineages.
 Gray sectors mark lineages that have given rise to complex multicellular species. Adapted from Coelho and Cock, 2020 [
3
].
A crucial step in the acquisition of multicellularity was the development of an adherent extracellular matrix (ECM), allowing for the transition from cellular autonomy to cellular cooperation. ECMs are complex supramolecular networks that provide multicellular tissues with both rigidity and flexibility. In addition to this structural role, the ECM has important functions in the regulation of development as well as in shielding cells from the outside medium, including protection against abiotic and biotic stresses.
ECMs have been studied intensely in several eukaryotic lineages including animals, fungi, and terrestrial plants, but are less well characterized in the three macroalgal lineages. Here, we review the main features of the organization and functions of the ECM in multicellular eukaryotes, with a particular focus on model macroalgae as these organisms provide a different perspective on the evolution of the ECM and its relationship to the acquisition of complex multicellularity. We revisit our phylogenomic analysis of the evolution of ECM polysaccharides in eukaryotes published ~10 years ago [
4
]. Over the past decade, considerable progress has been made in our understanding of the functions of the ECM in development and the innate immunity of marine macroalgae. In particular, complete genomes are now available from every macroalgal phylum, notably the brown alga 
Ectocarpus siliculosus
 [
5
], the carrageenophyte red alga 
Chondrus crispus
 [
6
], the agarophyte red alga 
Porphyra umbilicalis
 [
7
], the green alga 
Ulva mutabilis
 [
8
], and the charophyte green alga 
Chara braunii
 [
9
]. Many of the advances we will discuss have been based on analysis of these reference genomes. There are striking similarities between the functions of the ECMs of algae, animals, plants, and fungi. However, it appears that these are essentially convergent features, which emerged independently in each of the phyla that evolved complex multicellularity.
2. Structure of the Extracellular Matrix of Marine Macroalgae
3. Origin of ECM Components in Plants and Algae
4. Biomechanical Properties of the ECM
5. Interfacing with the External Medium
6. ECM Signaling and Development
7. ECM Signaling and Innate Immunity
8. Conclusions
The physical and chemical constraints of the marine and terrestrial environments are substantially different. For photosynthetic eukaryotes immersion in seawater and being rooted in the soil represent very different conditions in terms of availability of water and nutrients as well as perception of physical and chemical pressures. However, the biological constraints are similar, involving resistance to abiotic and biotic stresses. Transitions from uni- to multi-cellularity have occurred in the context of these physical and biological constraints and have had to take into account these stresses.
The evidence discussed in the various sections above indicates that—as was also the case for animals, land plants, and fungi—the ECMs of macroalgae not only are important from a structural point of view, providing a matrix that holds cells together within tissues and protecting them from the environment, but they probably also play important roles in signaling events related to multicellular development and defense responses.
When we compare the ECMs of diverse eukaryotic lineages, it is remarkable that only a few elements can be traced back to their unicellular common ancestor. The carbohydrate sulfotransferases (CSTs), which mediate the addition of sulfate-ester groups to matrix sulfated polysaccharides, appear to be very ancient in eukaryotes as they are shared by extant organisms belonging to at least three distant phyla (Opisthokonta (metazoans), Archaeplastida (marine red and green macroalgae), and Stramenopiles (marine diatoms and brown algae). Absence of CSTs from extant charophytes and land plants (Archaeplastida) and oomycetes (Stramenopiles) is most likely due to gene loss as a result of adaptation to freshwater and terrestrial environments, which are poor in sulfate. In contrast, the vast majority of ECM material has been acquired de novo in each multicellular lineage. This is the case for self-associating linear macromolecules that compose the fibrillar components of ECM, such as collagens in metazoans, β-1,3-glucan and chitin in fungi, cellulose and hemicellulose in amoeba, algae and plants. Here, we present evidence that cellulose biosynthesis was acquired independently in all of the photosynthetic lineages and in amoeba by the early recruitment of cellulose synthases from distinct classes of bacteria. The construction of organized parenchymas required the recruitment and the expansion of polymers, such as proteoglycans, pectins, ulvans, sulfated galactans, and alginates, which intersperse and cross-link the semicrystalline fibrillary elements. Again, the synthases, such as glycosyl transferases, which elongate these macromolecular chains are mostly not homologous between these multicellular lineages. Not surprisingly, this is also the case of the enzymes that control the self-assembly of these linear macromolecules and the plasticity of the ECM, i.e., pro-collagenases in animals, pectin methyl-esterases in Viridiplantae, mannuronan-C5-epimerases in brown algae and galactose-6-sulfurylases in red algae.
As the shielding functions of different types of ECM essentially derive from their macromolecular composition and architecture, they can be thought of as clear examples of convergent evolution within the context of the emergence of multicellularity. A similar conclusion can be drawn for the first line of defense in innate immunity, the recognition by extracellular Pattern Recognition Receptors of Pathogen/Microbial Associated Molecular Patterns or of Damage/Danger Associated Molecular Patterns derived from the ECM of pathogens or the host, respectively. The intracellular machinery associated with early responses to biotic and abiotic stress, including NADPH oxidases, phospholipases, and lipoxygenases, is present in all of the multicellular lineages, likely a legacy from the unicellular common ancestor of eukaryotes [
145
,
164
,
165
]. However, and in spite of structural similarities, PPRs were shown to have arisen independently in animals and plants (see, e.g., in [
163
]) and, although functional evidence is absent, we believe that this is also the case in the macroalgal lineages.
Given the independent evolutionary origins of the ECMs of different eukaryotic lineages, it should also not be surprising that each lineage has independently evolved systems that link ECM integrity and function to developmental processes. This has clearly been the case for animals, land plants and fungi. These processes have yet to be identified and characterized in macroalgae but there are already indications that seaweeds may also conform to this "rule". For example, although a small number of molecules resembling ECM regulators in other lineages, such as integrin-like molecules and receptor kinases, have been identified in brown algae, it is unlikely that they function in the same manner in this algal lineage. Many of the key components of integrin signaling are absent, suggesting that the integrin-like molecules may be recognizing other ligands and functioning in other pathways. Similarly, receptor kinases appear to have evolved independently in the brown algae [
5
] and again this would be consistent with the emergence of functional novelty.
The focus on macroalgae here has highlighted the interest and novelty of these model systems but has also underlined the lack of information compared to more intensely studied lineages such as animals, land plants and fungi. This situation is changing with the establishment of more extensive genomic resources (e.g., 
https://phaeoexplorer.sb-roscoff.fr/home
 (accessed on the 9 July 2021) and the recent development of genetic tools to explore gene function in macroalgae such as forward genetics [
166
] and genetic transformation [
167
,
168
] and genome editing [
167
,
168
]. One particular area of interest to explore with such new approaches is the biosynthesis and trafficking of ECM components. It is most likely that, as in the other lineages of multicellular eukaryotes, ECM assembly in macroalgae requires the coordinated involvement of the nucleus, endoplasmic reticulum, Golgi apparatus, secretion vesicles and the plasma membrane. The molecular tools that are now available should allow this coordinated process to be worked out in detail. With these tools one can also expect to gain further insight into the molecular bases of ECM functions in marine macroalgae.
Author Contributions
Conceptualization, B.K. and G.M. Original draft preparation, all authors, with focus on Structure and evolution of ECM, G.M.; Biophysics of ECM, B.K.; ECM and development, J.M.C.; ECM and immunity, Y.B. and B.K. All authors have read and agreed to the published version of the manuscript.
Funding
G.M. is grateful to the French National Research Agency (ANR) for its support with regards to the "Breaking Alg" project (reference ANR-18-CE43-0003).
Institutional Review Board Statement
Not applicable.
Informed Consent Statement
Not applicable.
Data Availability Statement
Not applicable.
Acknowledgments
We warmly thank Elizabeth Ficko-Blean for her meticulous reading of our manuscript. We are grateful to our colleagues Cécile Hervé, Simon Dittami and Philippe Potin for useful discussions about the matter of this review. We also thank Maela Kloareg for her statistical analysis of the relationships between the composition of the cell walls of brown algae and the duration of emersion.
Conflicts of Interest
The authors declare no conflict of interest.
Download the file : 2021_Genes_Kloareg_ECM.pdf (2.9 MB)
Find it online